Following  Lia @ Lost in a Story steps and inspired by Zuky @ Book Bum I decided to finally start with this idea to try to keep control of my unnerving and limitless-growing TBR!!  So let's start!!! 🙂 🙂 Warning: This is going to be a long one, because there's too much to clean around!! 😉
Anyway, it works like this:
Go to your goodreads to-read shelf.
Order on ascending date added.

Take the first 5 (or 10 if you

'

re feeling adventurous) books. Of course if you do this weekly, you start where you left off the last time.

Read the synopses

 

of the books

Decide: keep it

 

or should it go?
– – –
East of Eden by John Steinbeck
Set in the rich farmland of California's Salinas Valley, this sprawling and often brutal novel follows the intertwined destinies of two families—the Trasks and the Hamiltons—whose generations helplessly reenact the fall of Adam and Eve and the poisonous rivalry of Cain and Abel. Here Steinbeck created some of his most memorable characters and explored his most enduring themes: the mystery of identity; the inexplicability of love; and the murderous consequences of love's absence.
Stupid me, I started this years ago and I couldn't even pass the first pages… I don't know what I was trying to accomplish but let's say it didn't end well. My english was ok but either that or the writing… I was not prepared for this. Still, it being considered a classic I haven't given up hope yet.
---

Verdict: KEEP

---
X
Millennium #1 Los hombres que no amaban a las mujeres aka The Girl With The Dragon Tattoo by Stieg Larsson
Stieg Larsson's The Girl with the Dragon Tattoo combines murder mystery, family saga, love story, and financial intrigue into a complex and atmospheric novel.
Harriet Vanger, a scion of one of Sweden's wealthiest families disappeared over forty years ago. All these years later, her aged uncle continues to seek the truth. He hires Mikael Blomkvist, a crusading journalist recently trapped by a libel conviction, to investigate. He is aided by the pierced and tattooed punk prodigy Lisbeth Salander. Together they tap into a vein of iniquity and corruption.
What can I say, I devoured the movies (the originals) and have since watched them countless time. This story is just too good to pass on and I hate it's taken me so long. I though this was my very first book in my goodreads TBR, I was wrong but still it's been there for more than 10 years… totally unbelievable!! Once you get a taste of Lisbeth, there's no going back! I plan on getting to them very very soon!! 🙂
---

Verdict: KEEP

---
  .
---

Verdict: KEEP  KEEP  !!!

---
X
Lover Awakened, Black Dagger Brotherhood #3 by J. R. Ward
In the shadows of the night in Caldwell, New York, there's a deadly war raging between vampires and their slayers. And there exists a secret band of brothers like no other – six vampire warriors, defenders of their race. Of these, Zsadist is the most terrifying member of the Black Dagger Brotherhood.
A former blood slave, the vampire Zsadist still bears the scars from a past filled with suffering and humiliation. Renowned for his unquenchable fury and sinister deeds, he is a savage feared by humans and vampires alike. Anger is his only companion, and terror is his only passion—until he rescues a beautiful aristocrat from the evil Lessening Society.
Bella is instantly entranced by the seething power Zsadist possesses. But even as their desire for one another begins to overtake them both, Zsadist's thirst for vengeance against Bella's tormentors drives him to the brink of madness. Now, Bella must help her lover overcome the wounds of his tortured past, and find a future with her…
Once upon a time I enjoyed the first two apparently, but since then my tastes have changed and evolved and I have no kind of interest in continuing with this series any more…
---

Verdict: REMOVE

---
      

---

Verdict: REMOVE  REMOVE !!!

---
X
Claire se queda sola aka Watermelon by Marian Keyes
Marian Keyes begins Watermelon with a rather inauspicious romantic opening when the heroine's husband leaves her for Denise from the flat downstairs the day their first child is born. Claire, the deserted wife and mother, returns to her family in Dublin and, after going through the required stages of "Loss, Loneliness, Hopelessness and Humiliation", begins to feel much better–so much better that when James tries to win his way back into her affections, he gets more than he bargained for.
Pure chance, that was the reason this book made my TBR instead of my read shelf. For some unknown reason I didn't get Marian's first ever book, instead I started from the second one and have since then collected all of her books and yet I still haven't picked this one up… No reason behind it, I guess I haven't been finding myself in a chick-lit mood but still I won't give the cold shoulder to Marian!
---

Verdict: KEEP

---
X
Cross Country (Alex Cross #14) by James Patterson
Alex Cross had never before seen its gory equal. The home of his oldest friend has been transformed into a blood-drenched scene of carnage. Identifying the soulless culprit is relatively easy; neutralizing him proves to be next to impossible. The Nigerian warlord nicknamed Tiger possesses a magician-like ability to vanish into woodwork or, more likely, African bush lands, but his roving teams of teenage assassins perform his dirty deeds long distance. To stop this elusive remote-control killer, Cross and his girlfriend, Brianna Stone, must enter his turf, but they do so at extreme risk. James Patterson's most compelling protagonist at the top of his thrilling game.
Mmmm… this is a hard one, it isn't that I decided to give Cross the cold shoulder, but the editions I was collecting stopped being released so I just stoped. Years have passed since then but I am still not sure what I'll do.
---

Verdict: Dubious

---
---

Verdict: Dubious

---
X
The Maze Runner (The Maze Runner #1) by James Dashner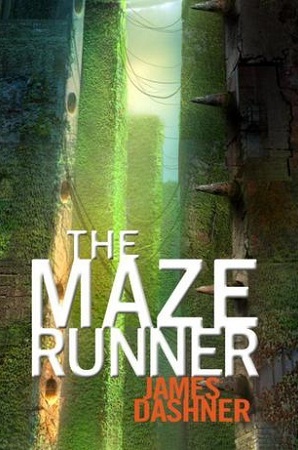 There are alternate cover editions for this ASIN here and here.
If you ain't scared, you ain't human.
When Thomas wakes up in the lift, the only thing he can remember is his name. He's surrounded by strangers—boys whose memories are also gone.
Nice to meet ya, shank. Welcome to the Glade.
Outside the towering stone walls that surround the Glade is a limitless, ever-changing maze. It's the only way out—and no one's ever made it through alive.
Everything is going to change.
Then a girl arrives. The first girl ever. And the message she delivers is terrifying.
Remember. Survive. Run.
Now that the dystopian and specially de YA dystopian is over (for me) and after having seen the movies based on this book I have no interest in losing any kind of time on it!
---

Verdict: REMOVE

---
---

Verdict: REMOVE  REMOVE !!!

---
And that's it for today folks!! Rounding everything up:
---
Total of books analyzed: 20
Total of books removed: 8
Total of books I'm still dubious about: 7
---
TBR total now: 385!!!