INFORMATION
Title:  City of Saints & Thieves
Series:  –
Author:  Natalie C. Anderson
Publisher:  Rock The Boat (Oneworld Pub.)
Published:  6 July 2017
Language:  English
Format:  eBook
Pages:  432
ISBN:  9781786072290
***********************************************************************
GOODREADS SYNOPSIS
Genre: Mystery, Contemporary, YA.
Goodreads rating: 4
Street-thief Tina breaks in to the luxurious house where her mother was killed to steal from Mr. Greyhill and nail him for her mother's murder. She is caught red-handed.
Saved by Mr. Greyhill's gorgeous son, Michael, the pair set in motion a cascade of dangerous events that lead them deeper into the mystery, and reveal dark and shocking secrets from Tina's past.
Tina and her mother fled the Congo years ago as refugees, trading the uncertain danger of their besieged village for a new, safer life in the bustling Kenyan metropolis. The corruption and politics of the Congo, and the gangster world of Sangui City, are behind Tina's mother's downfall. Is Tina tough enough to find the truth and bring the killer to justice?
***********************************************************************
MY REVIEW
My Rating and General Opinion
5*
I . Loved . This . Book .
Rich, thrilling and an overall amazing ride.
That sums things up. Although I don't have anything in common with our heroine I felt immediately synched with her. The story told here was one of vengeance and the search of truth. This revenge of course had multiple twists and overall a bit of everything, adventure, thriller, action… but most importantly the relationships formed here and the colourful background were what stole my heart. I didn't expect to get this depth in a YA novel, but this surprised me, for the better. I don't have anything bad to say about it and I understand completely all the buzz surrounding this one when it got released in the US.
The Writing
The writing grabbed my attention from page one. They say first sentences are crucial  (which is something I am starting to get used to now) and in this case it worked wonders! The construction of characters and the description of every single thing made you feel part of the landscape, which is pretty impressive given that it takes part in an area I don't know anything about.
The author did a terrific job telling this story the way she did. It's clear she spent some time and documented herself more than enough to give a believable image of the situation there.
The Story
In this case I think the less you know the more you will enjoy this unique story. I had never read anything like this, based on African lands and I  The main plot and where the story surrounds around is the mystery of Tina's mother's murder. Tina, our heroine, goes from a broken family to an even more broken one. In this search of truth Tina finds herself in the center of an uncommon entourage that must defeat all odds, but is this company she keeps that makes the whole thing even more endearing. Her circumstances are unimaginably hard and difficult but thrilling to hear about it.
The mystery was there, but as the story progresses the plot keeps thickening and when they finally travel to the tiny town of Congo where Tina's mom came from things get even weirder, trickier and let's say fricking interesting and twisted!
The conclusion was surprising and I don't mind saying I didn't see it coming, not until it was too late. And let me say my mind was all sorts of *WTH WHOAAA WTH*
Simply perfect. The anguish and melancholy the reader must have felt throughout the novel will disappear as easily as it appeared, because the main felling I got from it all was happiness. Not complete happiness, but you'll understand it when you read it, which I highly encourage you to.
The Characters
What an ensemble. There wasn't a single character here that didn't bring something vital to the story, at least not that I can remember.
First of course we have our heroine Tina. She was so fierce and relatable. Yes at the beginning of the story she could only see red (vengeance red) but she evolved, matured and grew out to be an incredible young woman. She was nonetheless flawed but a realistic flawed that
Then we find the rest of the gang aka Mr. rich and lovely eyed Michael and her non-goonda colleague tech genius Boyboy. This three make quite a threesome
There's a ton of important characters that will help (or not) this trio in their search of the truth but wanting to keep things fresh I am just going to mention the Goondas. I had never before heard about them but they were kind of a street gangster group that "adopted" Tina as one of their own. They were her family for most of her life, the ones that taught her the ropes of being a thief and the ones that wanted to control her.
Totally recommendable read! It has a bit of everything and I don't consider this to be your average YA novel in fact I think it's much more. I cannot encourage you enough how deserving this book is, even more of an eye opener! 🙂 😉
– · – · –
I must give a big thank you to the author, Natalie C. Anderson, the publisher, Rock The Boat (Oneworld Publications) and Netgalley for approving me and giving me this opportunity. This is a completely honest review.
***********************************************************************
ABOUT THE AUTHOR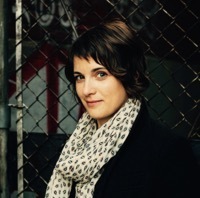 Natalie C. Anderson is a writer and international development professional living in Boston, Massachusetts. She has spent the last decade working with NGOs and the UN on refugee relief and development, mainly in Africa. She was selected as the 2014-2015 Associates of the Boston Public Library Children's Writer in Residence, where she wrote her debut novel, City of Saints and Thieves.
.
You can order it now here:
UK edition
…
Amazon ES paperback (6 julio)
Amazon UK paperback (july 6)
Wordery paperback (july 6)
Book Depository paperback (july 6)
US edition
Amazon ES paperback (24 enero)

Amazon ES hardback (24 enero)
Amazon UK paperback (january 24)
Amazon UK hardback (january 24)
Amazon US paperback (january 24)
Amazon US hardback (january 24)
Wordery hardback (january 24)
Book Depository paperback (january 24)
Book Depository hardback (january 24)