Here we are, another week more!! Following  Lia @ Lost in a Story steps and inspired by Zuky @ Book Bum I decided to finally start with this idea to try to keep control of my unnerving and limitless-growing TBR!!  So let's start!!! 🙂 🙂
Anyway, it works like this:
Go to your goodreads to-read shelf.
Order on ascending date added.

Take the first 5 (or 10 if you

'

re feeling adventurous) books. Of course if you do this weekly, you start where you left off the last time.

Read the synopses

 

of the books

Decide: keep it

 

or should it go?
– – –
Clockwork Angel (TID #1) by Cassandra Clare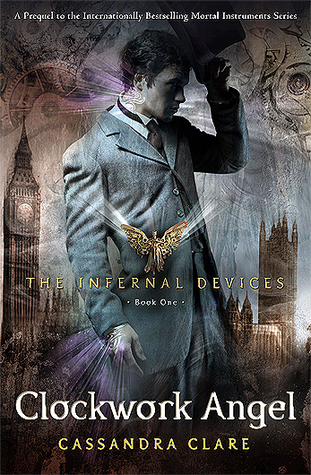 In a time when Shadowhunters are barely winning the fight against the forces of darkness, one battle will change the course of history forever. Welcome to the Infernal Devices trilogy, a stunning and dangerous prequel to the New York Timesbestselling Mortal Instruments series.
The year is 1878. Tessa Gray descends into London's dark supernatural underworld in search of her missing brother. She soon discovers that her only allies are the demon-slaying Shadowhunters—including Will and Jem, the mysterious boys she is attracted to. Soon they find themselves up against the Pandemonium Club, a secret organization of vampires, demons, warlocks, and humans. Equipped with a magical army of unstoppable clockwork creatures, the Club is out to rule the British Empire, and only Tessa and her allies can stop them…

OK, it's been 3 years since I read any shadowhunter related anything and although I really enjoyed the world created by Clare I also have a difficult relationship with her… I've heard this are really good and I actually own them so I need to get to them! I haven't found myself in the mood for these for I should, quick!
---

Verdict: KEEP

---

---

Verdict: KEEP

---
X
Matched (Matched #1) 
by

Ally Condie
In the Society, officials decide. Who you love. Where you work. When you die.
Cassia has always trusted their choices. It's hardly any price to pay for a long life, the perfect job, the ideal mate. So when her best friend appears on the Matching screen, Cassia knows with complete certainty that he is the one…until she sees another face flash for an instant before the screen fades to black. Now Cassia is faced with impossible choices: between Xander and Ky, between the only life she's known and a path no one else has ever dared follow—between perfection and passion.
Matched is a story for right now and storytelling with the resonance of a classic.
Once I started reading dystopian genre was my go to, yes thrillers and mysteries have always been there for me, but this new genre had me on a high! A lot of this type of series made it into my list but as things are now, my interest in this kind of stories is so low… that I don't even want to waste time on them. This series received a lot of mix reviews but I still had so kind of hope for a fun and easy read but now, no way. Sorry but this series is a big no right now, for me!
---

Verdict: REMOVE

---
---

Verdict: REMOVE

---
X
Magic for Beginners by Kelly Link 
The nine stories in Link's second collection are the spitting image of those in her acclaimed debut, Stranger Things Happen: effervescent blends of quirky humor and pathos that transform stock themes of genre fiction into the stuff of delicate lyrical fantasy. In "Stone Animals," a house's haunting takes the unusual form of hordes of rabbits that camp out nightly on the front lawn. This proves just one of several benign but inexplicable phenomena that begin to pull apart the family newly moved into the house as surely as a more sinister supernatural influence might. The title story beautifully captures the unpredictable potential of teenage lives through its account of a group of adolescent schoolfriends whose experiences subtly parallel events in a surreal TV fantasy series. Zombies serve as the focus for a young man's anxieties about his future in "Some Zombie Contingency Plans" and offer suggestive counterpoint to the lives of two convenience store clerks who serve them in "The Hortlak." Not only does Link find fresh perspectives from which to explore familiar premises, she also forges ingenious connections between disparate images and narrative approaches to suggest a convincing alternate logic that shapes the worlds of her highly original fantasies.
I might still be a bit dubious about this one but I am also equally intrigued by the theme and the writing, so there you go! I don't know if it was this one or her other work in this list that had some Buffy related stories so… I couldn't simply say no!!
---

Verdict: KEEP

---
---

Verdict: KEEP

---
X
Tiny Beautiful Things: Advice on Love and Life from Dear Sugar by Cheryl Strayed
Life can be hard: your lover cheats on you; you lose a family member; you can't pay the bills—and it can be great: you've had the hottest sex of your life; you get that plum job; you muster the courage to write your novel. Sugar—the once-anonymous online columnist at The Rumpus, now revealed as Cheryl Strayed, author of the bestselling memoir Wild—is the person thousands turn to for advice. 
Tiny Beautiful Things brings the best of Dear Sugar in one place and includes never-before-published columns and a new introduction by Steve Almond.  Rich with humor, insight, compassion—and absolute honesty—this book is a balm for everything life throws our way. 
Haven't read Wild yet either (but I am picking it up this summer!) but this time of novel works at certain times in your life and I am just curios about this. There have been some mixed reviews but I am keeping this one. I expect it to be some kind of Carrie (from SitC) with less sex and more advice so we'll see!
---

Verdict: KEEP

---
X
All the Bright Places by Jennifer Niven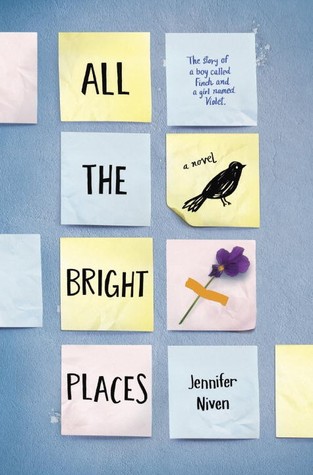 The Fault in Our Stars meets Eleanor and Park in this exhilarating and heart-wrenching love story about a girl who learns to live from a boy who intends to die.
Soon to be a major motion picture starring Elle Fanning!
Theodore Finch is fascinated by death, and he constantly thinks of ways he might kill himself. But each time, something good, no matter how small, stops him.
Violet Markey lives for the future, counting the days until graduation, when she can escape her Indiana town and her aching grief in the wake of her sister's recent death.
When Finch and Violet meet on the ledge of the bell tower at school, it's unclear who saves whom. And when they pair up on a project to discover the "natural wonders" of their state, both Finch and Violet make more important discoveries: It's only with Violet that Finch can be himself—a weird, funny, live-out-loud guy who's not such a freak after all. And it's only with Finch that Violet can forget to count away the days and start living them. But as Violet's world grows, Finch's begins to shrink.
This is an intense, gripping novel perfect for fans of Jay Asher, Rainbow Rowell, John Green, Gayle Forman, and Jenny Downham from a talented new voice in YA, Jennifer Niven.
The hype around this was high when it got out and although the theme might be important I feel myself not longer being curious about this type of YA read. So this was an easy one!
---

Verdict: REMOVE

---
And that's it for today folks!! DTRH #4 wasn't as good as the first installment but I am still content with the results.
Rounding everything up:
---
Total of books analyzed: 10
Total of books removed: 4
Total of books I'm still dubious about: –
---
TBR total now: 378!!!